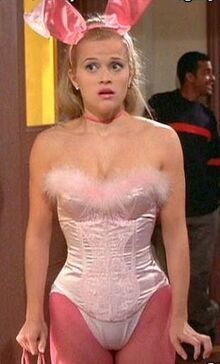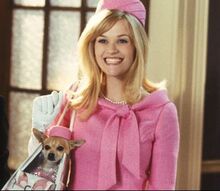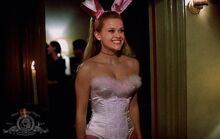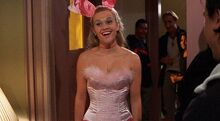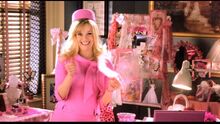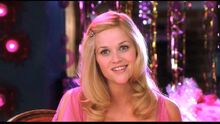 Elle Woods is the main protagonist in the film Legally Blonde and its sequel Legally Blonde 2: Red, White & Blonde, portrayed by Reese Witherspoon.
Personality
Edit
She is shown to be strongly affected by her emotions, such as when her undeserving ex-boyfriend, Warner Huntington III broke up with her and she attempted to win him back by attending his college, Harvard Law and when the lecherous Professor Callahan hired her as an intern only to make a sexual advance on her, leading her to believe that she was not a good lawyer after all until Emmett Richmond stopped her just in time from leaving.
Elle is a girly, energetic, sweet, and thoughtful and persistent young woman. She loves the color pink along with her dog Bruiser.
Although people don't take her seriously and she can be quite ditzy at times, Elle has genius-level intellect and is cunning, aside from witty and open. Even so, she is very humble, recognizing her strength when needed but not making others feel inferior.
She is very motherly to Bruiser, but also treats him like a little brother, confidant, and best friend, always being proud of him.
Physical Appearance
Edit
Elle is an attractive young woman with long blonde hair (often styled) and clear blue eyes.e wears the color pink quite often, usually in the latest trends and fancy outfits. Some of these outfits are considered risque or revealing in Boston, but would be otherwise normal in California, where she's from. She carries her pet chihuahua, Bruiser, with her wherever she goes in a special carrier, and dresses him in the latest pooch fashions.
In her Capitol Barbie Outfit pink pillbox hat, pink dress and pink skirt, white long gloves and her pretty purse.
She attended CULA for her Bachelor's degree in Fashion Merchandising.
A perfect score on the LSAT exam is 180 therefore Elle's score of 179 puts her in the top 0.1%.
Elle wears 40 different hairstyles throughout the film.
We see Elle Woods brushing her hair behind the opening credits. This is not Reese Witherspoon, as she was in England finishing The Importance of Being Earnest (2002).
Charlize Theron, Gwyneth Paltrow, Alicia Silverstone, Katherine Heigl, Christina Applegate, Milla Jovovich, Tori Spelling, and Jennifer Love Hewitt were all considered for Elle Woods.
In the novel, Elle is a member of Delta Gamma, an international sorority which is part of the Panhellenic Conference. It was changed to Delta Nu to avoid problems with the real organization.
As mentioned in the musical, Elle is a gemini and vegetarian with a double capricorn moon.
Community content is available under
CC-BY-SA
unless otherwise noted.